NBSC Membership renewal
Views: 390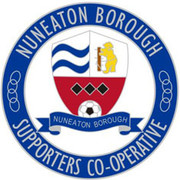 The Co-operative invite existing members to renew their annual membership, also new members who wish to join, by visiting our table in the the Sports bar prior to kick-off tomorrow v Southport and on 29th August v Brackley. We will also be happy to answer any questions you may have.

Annual membership remains at just £2 per member, alternatively, you can join the ever increasing numbers taking out a life membership for a one off payment of £20.

To celebrate the return of the Boro name, we have placed an order for new 'Nuneaton Borough Supporters' Co-operative' hard enamel badges which will be given exclusively to those renewing/joining for the current year and to life members. We anticipate the badges will be available in time for the Brackley game but will keep you updated in this respect.

Many thanks for your continued support.

Up the Boro
reply to this article | return to the front page
2 people
NuneatonBoroughFC.com website ......Co-op
Views: 333
working well with club to improve things.

FROM CLUB WEBSITE -

The Club's rebranding of its social media platforms has now been completed thanks to the support of the Nuneaton Borough Supporters Co-operative.
The premium website domain name NuneatonBoroughFC.com was made available to the club recently by the Co-op.

Club Secretary Adam Etheridge said "we're extremely grateful to the Co-op for their generous donation, and for the massive help that they've given the Club in what has been a very difficult period. We look forward to working closely with them over the coming weeks, months and years as we continue to rebuild our relationship with the Boro' faithful."

Speaking on behalf of the Co-op, interim chairman Mark Axon said " the Co-op are glad to be able to assist the club with this new website domain name. Adam and the team are working incredibly hard behind the scenes and the Co-op have offered to continue to support them wherever we can."

The Co-op will be working with the Club to bring all areas of the website up to date over the coming days.
reply to this article | return to the front page
1 person
Re: NuneatonBoroughFC.com website ......Co-op
Views: 312
It's very apt that it's Nuneaton Borough FC for the website but no 'FC' on the Club badge.
Over to you boro44.

Forensic analysis of posts not available here.
reply to this article | return to the front page